Skip to Main Content
It looks like you're using Internet Explorer 11 or older. This website works best with modern browsers such as the latest versions of Chrome, Firefox, Safari, and Edge. If you continue with this browser, you may see unexpected results.
About this Page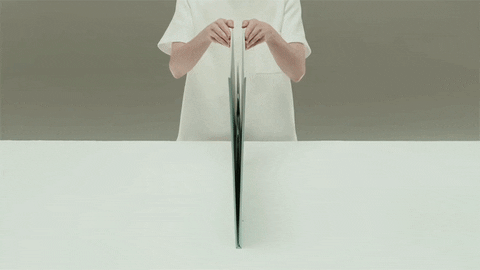 Image Description: Gif of artist Tauba Auerbach opening and closing a pop-up book. From Tauba Auerbach via Giphy.com
On this page, you'll find a list of some resources available at Decker Library to build your instructional practice. This list is by no-means exhaustive, but does draw upon the resources used to create Decker Library's Information Literacy Program.
Library Instruction
Critical Library Instruction

by

Emily Drabinski (Editor); Alana Kumbier (Editor); Maria Accardi (Editor)

Call Number: Z711.25 .C65 C75 2010

ISBN: 9781936117017

Publication Date: 2010-01-01

Critical literacy for information professionals

by

McNicol, Sarah, author, editor.

Call Number: LC196 .C74 2016

ISBN: 9781783301058

Publication Date: 2016

Feminist Pedagogy for Library Instruction

by

Maria T. Accardi

Call Number: Z711.25 .C65 A27 2013

ISBN: 9781936117550

Publication Date: 2013-07-01

Information Literacy and Writing Studies in Conversation

by

Andrea Baer

Call Number: ZA3075 .B33 2016

ISBN: 9781634000215

Publication Date: 2016-05-01

The Library Instruction Cookbook

by

Ryan Sittler; Douglas Cook

Call Number: Z711.25 .C65 L53 2009

ISBN: 9780838985113

Publication Date: 2009-07-01
Critical & Feminist Pedagogy
A Pedagogy for Liberation

by

Ira Shor; Paulo Freire

Call Number: LB41 .S554 1987

ISBN: 9780897891042

Publication Date: 1986-11-30

Pedagogy of the Oppressed

by

Paulo Freire; Freire

Call Number: LB880 .F73 P4313 2000

ISBN: 9780826412768

Publication Date: 2000-09-01

Teaching to Transgress

by

Bell Hooks

Call Number: LC196 .H66 1994

ISBN: 9780415908085

Publication Date: 1994-09-12
Teaching ELL Students
Integrating Multilingual Students into College Classrooms

by

Johnnie Johnson Hafernik; Fredel M. Wiant

Call Number: PE1128 .A2 H283 2012

ISBN: 9781847698209

Publication Date: 2012-10-25

Reinventing Identities in Second Language Writing

by

Michelle Cox (Editor); Jay Jordan (Editor); Christina Ortmeier-Hooper (Editor); Gwen Gray Schwartz (Editor)

Call Number: P53.27 .R45 2010

ISBN: 9780814139820

Publication Date: 2010-01-01

Second-Language Writing in the Composition Classroom

by

Paul Kei Matsuda; Michelle Cox; Jay Jordan; Christina Ortmeier-Hooper

Call Number: P53.27 .S43 2011

ISBN: 9780312676421

Publication Date: 2010-07-08

Teaching Readers of English

by

Dana R. Ferris; John Hedgcock

Call Number: PE1128 .A2 H43 2009

ISBN: 9780415999649

Publication Date: 2009-03-23

Understanding Your International Students

by

Elizabeth L. Zollner; Jeffra JoAnn Flaitz (Editor); Leslie Kosel Eckstein; Kimberly S. Kalaydjian; Ariadne Miranda; Deborah A. Mitchell; Amna Mohamed; Barbara Smith-Palinkas; Jerome York

Call Number: LB2375 .U52 2003

ISBN: 9780472088669

Publication Date: 2003-02-04

What Do International Students Think and Feel?

by

Jerry G. Gebhard

Call Number: LB2376.4 .G43 2010

ISBN: 9780472034062

Publication Date: 2010-09-13

Writing Myths

by

Joy Reid (Editor); Keith S. Folse (As told to); Cynthia M. Schuemann (As told to); Pat Byrd (As told to); John Bunting (As told to); Ken Hyland (As told to)

ISBN: 9780472032570

Publication Date: 2008-04-02
Decker Library at the Maryland Institute College of Art | Location: 1401 W. Mount Royal Ave., Baltimore, MD 21217 | Mailing: 1300 W. Mount Royal Ave., Baltimore, MD 21217
Research Help: 410-225-2273 / refer@mica.edu | General Questions: 410-225-2272 / circ@mica.edu